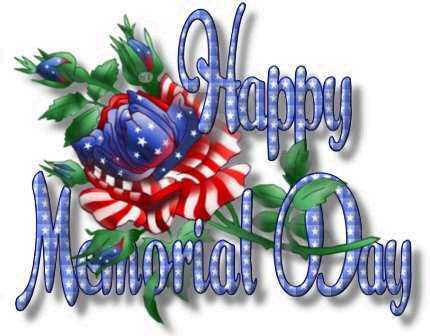 glitter-graphics.com

Monday May 25th
:
Weight 205.6#
Morning:
Started the day off with a Ginger/Parsley/Honey/Lemon Juice/Pineapple juice drink,
Breakfast

:
Yogurt/Fruit/Almond Smoothie
Snack:
Apple
Lunch:
Hummus Veggie Pita Plate, again really yummy, hubby hates it but I LOVE hummus
Dinner:
Tuna Bake, Potato Chips
Snack:
100 Calorie Popcorn, Frozen Otter Pop Type Things, way too many of them at 20 calories each....UGH, Potato Chips
Exercise:
30 Minute walk with my dog
Water

:
Drank All My Water
Just had a lazy day, spent a good majority of it relaxing, doing laundry and dishes. Also reflecting on the wonderful freedoms I have because of all the wonderful military/navy etc men and women who sacrifice so much for me. My Grandfather was in the Army was in WWII, and when he was older just before he died, I did a project where I started going through his pictures and labeled them, he had Alzheimers so was sketchy on what he could remember. But it was so amazing to hear some of his stories, as well as at his funeral the salute he was given. He died just after my Sr year of high school in 1995 (actually lost 3 grandparents that year, January, April and November). I had never lost anyone close to me other than a little boy I had babysat, so that was a very tough year. When I was on my mission in WV there was a gentleman, Marvin who was one of the most amazing men I have ever met, he was in the army severed in WWII and he took us to a memorial in Virginia. It was so touching to see his reverence at the memorial site. I am honored and blessed by all those who have served and the families who support them. THANK YOU!